Science Fiction Author Kim Stanley Robinson Here Friday
November 10, 2004
November 10, 2004, Greencastle, Ind. - Kim Stanley Robinson, widely regarded as one of today's finest science fiction writers, will visit the campus of DePauw University Friday, November 12, to present a reading. The event, sponsored by the The James and Marilou Kelly Writers Series and ArtsFest, will take place at 7:30 p.m. in the auditorium of the Richard E. Peeler Art Center and is free and open to all.
Robinson is best known for his "Mars Trilogy" -- Red Mars (1992), which won the Nebula award for best novel, Green Mars (1993), winner of the Hugo Award for best novel, and Blue Mars (1995), which also won the Hugo Award. Robinson's 2002 novel, The Years of Rice and Salt, is an alternate history, predicated on the destruction of Europe in the 13th c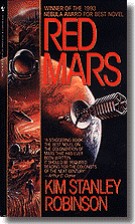 entury by the Black Plague. His most recent novel, Forty Signs of Rain, depicts the events leading up to a worldwide catastrophe brought on by global warming.
"Science fiction is one of the most powerful tools of human thought we have and one of the most powerful ways we have to generate beautiful novels," Robinson said in an interview. "I would like to stay devoted to the novel as the ultimate form so therefore need to be character based. If your characters are living in this world or future worlds they are going to be involved in ideas. It's not at all a contradiction to say I like novels with characters, but I like my characters to have a lot of ideas and to live in a world of ideas -- like we do now, so it's not that unrealistic."
Learn more about the author by clicking here.
Back