DePauw University Band Presents 'A Sousa Celebration' November 18
November 14, 2004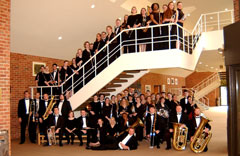 November 14, 2004, Greencastle, Ind. - The DePauw University Band and director Craig Paré will present "A Sousa Celebration" in honor of John Philip Sousa's 150th birthday on Thursday, November 18, 2004 at 1 p.m. in Kresge Auditorium. This event, which is free and open to the public, will feature DePauw faculty members Randy Salman on clarinet and Matthew Balensuela, who will serve as the concert's narrator.
"This concert is one of many events celebrating Sousa's legacy and influence this year," notes Paré. "The program is an attempt to substantially
acknowledge his music beyond the typical marches that Sousa is associated with."
This effort to diversify Sousa's reputation is particularly evident in the inclusion of the composer's Looking Upward Suite. One of eleven such ventures into the suite genre, Sousa drew his inspiration for this particular work from the night sky and his fascination with its various celestial bodies. Paré (seen at right) even invited DePauw Professor Howard Brooks from the physics and astronomy department to a rehearsal in an attempt to convey this background information to the students.
Also included in the program are Adolph Schreiner's Immer Kleiner and D.W. Reeves'
Yankee Doodle Fanstasie Humoreske, two works inspired by Sousa and written very much in his style. The first of these pieces will feature Randy Salman's (pictured below left) virtuosic clarinet playing with a humorous twist. "The soloist plays the clarinet first in its entire construction and gradually disassembles the various parts of the instrument as he performs," says Paré of the work. "Finally, he's left with only the mouthpiece for the last few measures."
For those interested in but unable to attend this event, DePauw's student radio station, WGRE (91.5 FM), will be broadcasting the concert live and on its Web site. Very soon, you'll be able to enjoy the latest compact disc release from the DePauw University Band. The ensemble's fifth CD, entitled Toccata Festiva, is scheduled for release this fall.
Visit the DePauw School of Music online by clicking here.
Back