Bob Steele '69 to Keynote Texas Press Association Conference
December 25, 2004
December 25, 2004, Greencastle, Ind. - Bob Steele -- the Nelson Poynter Scholar for Journalism Values and the senior faculty in ethics at the Poynter Institute and a 1969 graduate of DePauw University -- will present the keynote address to the Texas Press Association's 58th midwinter conference and trade show. Steele will discuss "Ethics & Plagiarism" at 7 p.m. on Friday, January 21, 2005. The conference will be held at the Hyatt Regency in Dallas-Fort Worth.
The conference's Web site notes that Steele "joined the Poynter faculty in 1989, serving as ethics group leader for 14 years. He guides the Institute's initiatives in values by teaching, writing and coaching at the intersection of ethics, leadership and craft as well as heightening Poynter's connection to senior executives."
It continues, "Steele has written extensively for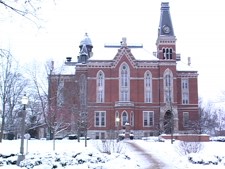 Poynter Online, including the 'Talk About Ethics' column, and case studies for American Society of Newspaper Editors, Radio-Television News Directors Association and Society of Professional Journalists. Before turning to teaching, Steele spent a decade as a television reporter, executive producer and news director in Maine, Wisconsin and Iowa. He also taught journalism at the University of Maine. He holds a doctorate from the University of Iowa where he wrote his Ph.D. dissertation on journalism ethics. He earned a master's degree from Syracuse University in television-radio and a B.A. degree in economics from DePauw University."
Learn more about the event by clicking here. Visit the Poynter Institute online by clicking here.
Back