80 Media Representatives Expected to Cover Saturday's Nationally Televised Battle for the Monon Bell
November 12, 2004
"Coach Nick" to Broadcast Game on DirecTV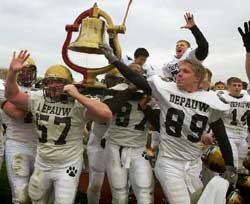 November 12, 2004, Greencastle, Ind. - "Television viewers nationwide will be able to tune in 1 p.m. Saturday when DePauw travels to Wabash for the 111th playing of the Monon Bell Classic," begins an article in today's Crawfordsville Journal Review. "For the first time in the history of the game that started in 1890, one of college football's greatest rivalries will be broadcast on DirecTV. The two schools entered an agreement with WHMB [channel 40 in Indianapolis] to televise the game live Saturday. WHMB's parent company, Lesea Broadcasting, will air the game on World Harvest Television, DirecTV channel 321."

[Download Video: "See The Ballad of the Monon Bell" 9346KB]

[Download Audio: "Hear The Ballad of the Monon Bell" 2900KB]
Matt Wilson's story notes, "Rob Blackman, who announces Indiana Firebir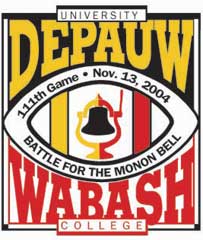 ds Arena Football games, will broadcast Saturday's game. Jim Barbar, who does some ESPN regional broadcasts, will be the sideline reporter." Nick Mourouzis, the winningest coach in Tiger football history, will provide color commentary on the telecast (read more here).

[Download Video: "1989 Monon Memory" - 3523kb]
"The game also has previously been aired on ESPN2 and ABC," Wilson writes. "It has also been on CBS' Sunday Morning. [Wabash director of public affairs and marketing Jim] Amidon said there will be close to 80 media members at Saturday's game. Radio stations WNDY (91.3), WIMC (103.9) and Greencastle's WGRE (91.5) will broadcast the games live." Listen to WGRE's broadcast live online here.

[Download Video: "1987 Monon Memory" - 2790kb]
Meanwhile, today's edition of Greencastle's Banner-Graphic states, "Saturda
y is what it's all about. One game could make or break an entire season. The DePauw University football team enters the final week of the regular season on Saturday with a record of 7-2, including 5-1 in the Southern Collegiate Athletic Conference," Jason Moon writes. "But if the Tigers don't beat Wabash, that record will appear empty to many fans. It might also appear empty for 21 players on the DPU roster. Those 21 players are seniors and they have never won the Monon Bell. 'It's been on their mind every since I got here last winter,' coach Bill Lynch said. 'They understand they haven't won it. This game is on their mind year-round.' For Lynch, Saturday will be the first time he has coached in the Monon Bell battle and he said he's as hyped for it as his players are."
Read the Journal Review story by clicking here, and acce
ss the Banner-Graphic article here. DePauw's allotment of 3,500 tickets to the game are sold out. A record crowd of 10,000 specatators is expected tomorrow. Kickoff is 1 p.m.

[Download Video: "1973 Monon Memory" - 1833kb] Again this year, a DVD of the Monon Bell Classic will be produced. It's available at a special pre-game price of $10 by clicking here.
Wabash leads the all-time series 51-50-9, while DePauw leads in games played for the Monon Bell by a 34-32-6 count.
Visit the Monon Bell Web page by clicking here.
(top photo by Marilyn E. Culler)
Back