Omaha World-Herald Examination of Reality TV Programs Quotes Prof. Jeff McCall '76
November 12, 2004
November 12, 2004, Greencastle, Ind. - "Reality TV is really quite a misnomer," Jeffrey McCall, professor of communications at DePauw University, tells Nebraska's Omaha World-Herald. "Very little of what is presented as reality TV is real. These shows are highly contrived and concocted." Dr. McCall, a 1976 graduate of DePauw, is quoted in a story in today's edition of the newspaper examining the glut of reality programming on network television.
Kim Roberts-Gudeman writes, "everyone from The Apprentice's Omarosa to Survivor: The Australian Outback's Jerri has complained about how producers have portrayed them unfairly with selective editing. That's because producers know that reality isn't as exciting as manufactured drama, McCall said. After all, how exhilarating would it be to watch a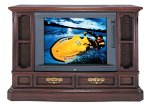 paunchy midlevel manager interview a well-mannered job candidate? Or two low-income, average-looking girls shovel manure on an Arkansas farm? 'They don't really want regular people,' McCall said. 'They want contestants who are more interesting, beautiful or intelligent than the average person.'"
Read the complete story by clicking here.
Back