Former DePauw Professor Elmer Plischke Part of Pennsylvania Newspaper's Veteran's Day Coverage
November 12, 2004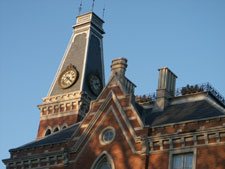 November 12, 2004, Greencastle, Ind. - "Elmer Plischke, 90, of Gettysburg [Pennsylvania] worked in Europe as a member of the political affairs unit of the office of military government of civil affairs for the U.S. Navy during World War II," notes the Evening Sun of Hanover, Pennsylvania. "Originally from Milwaukee, Plischke was charged with a program called 'de-Nazification,' and was in Paris when the war ended. He spent his later years as a college professor at DePauw University, University of Maryland and Gettysburg College." As part of its Veterans Day coverage, the newspaper carries a 2000 interview with Plischke, who was an assistant professor of political science at DePauw from 1946-48.
Access the newspaper article online by clicking here.
Professor Plischke authored a number of books, including Berlin: Development of Its Government and Administration, Contemporary U.S. Foreign Policy, and Diplomat in Chief: The President at the Summit.
Back