Craig Martin '85 Receives National Distinguished Educator Award
November 17, 2004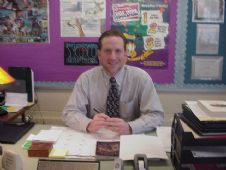 November 17, 2004, Greencastle, Ind. - Craig Martin -- language arts teacher and team leader at A.W. Coolidge Middle School in Reading, Massachusetts and 1985 graduate of DePauw University -- is one of three educators to receive the new Distinguished Educator Award. The honor is presented by National Middle School Association (NMSA) in recognition of efforts by Martin and his fellow recipients "to implement proven strategies [that] increase young adolescents' academic and developmental growth." according to the Reading Advocate. The awards were presented at the NMSA's annual conference in Minneapolis.
"These awards were created to recognize achievements of teachers and principals who are teaching young adolescents based on the concepts in 'This We Believe,' NMSA's landmark document on effective middle level education," said Sue Swaim, NMSA executive director. "These concepts have proven to lead students to academic success and developmental growth when they are implemented consistently." NMSA is the nation's largest professional association focused specifically on the education of young adolescents (10- to 15-year-olds).
The newspaper story notes that Martin "is a graduate of DePauw University in Indiana and earned his master's degree in school administration from Cambridge College."
Read more by clicking here.
Back