DePauw's "High Academic Standards and Committed Students" Appeal to Coach Bill Lynch: Indianapolis Star
November 13, 2004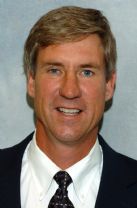 November 13, 2004, Greencastle, Ind. - "This is football like it was in the old days," head coach Bill Lynch says of DePauw University's program. Lynch, who formerly was head man at Division I Ball State, is featured in today's Indianapolis Star Monon Bell coverage. "The players are here because they want to be here. The coaches are giving everything they have here just like they are in Division I. The practices are the same. The whistle still blows. It's still football," Lynch adds.
Curt Cavin's article continues, "When DePauw coach Nick Mourouzis unexpectedly retired last fall after 23 seasons, Lynch perked up. DePauw is a small school -- an enrollment of 2,300 with a nonscholarship athletic program --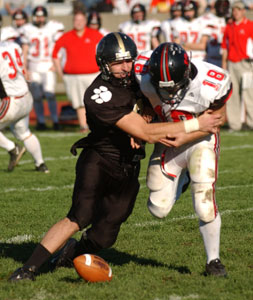 but it fit Lynch's philosophy and personality. High academic standards. Committed students. A community within central Indiana. He was hired in December. 'It was perfect,' he said."
Cavin notes, "Actually, perfect came later, in the spring, when the Lynches stumbled onto Heritage Lake in eastern Putnam County. The house they purchased sits at the edge of the water with a long pier. Buy a boat, they figured, and their four children -- plus two grandchildren -- would come in bunches. 'And they did, all summer,' Lynch said, smiling. 'It was just the kind of place we were looking for -- a place the kids would want to come home to.'"
Read the complete story, which includes a color photo of Coach Lynch, by clicking here.
For comprehensive coverage of DePauw's football program, visit the team's online page.
Back