"It's Gameday"! Newspapers Preview 111th Monon Bell Classic
November 13, 2004
National Telecast on DirecTV Channel 321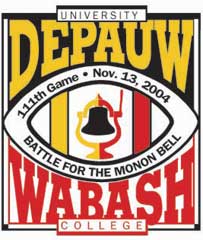 November 13, 2004, Greencastle, Ind. - "The hype for the 111th Monon Bell Classic is over. It's gameday," begins a story in today's Crawfordsville Journal Review. "One of college football's oldest and most-heated rivalries kicks off today when Wabash (6-3 overall) hosts DePauw (7-2) at 1 p.m. at Byron P. Hollet Little Giant Stadium. The Little Giants, who lead the overall series by the slimmest of margins, 51-50-9, will attempt to defeat the Tigers for the fourth consecutive year. DePauw comes into the clash as the victor of its last five contests."

�[Download Video: "See The Ballad of the Monon Bell" 9346KB]

[Download Audio: "Hear The Ballad of the Monon Bell" 2900KB]
"DePauw is having an outstanding year. They've won five in a row and are very different offensively," Wabash head coach Chris Creighton tells the newspaper. "They're committed to the run and are
doing it very well."

[Download Video: "1987 Monon Memory" - 2790kb]
Access the complete text by clicking here.
Several other game day articles are available. The Journal Review offers the Monon memories of Wabash alumnus and former NFL tight end Pete Metzelaars (read it here), as well as stories headlined "Monon Mania Alive on Wabash Campus" (here) and "Creighton, Lynch are part of Monon history" (here). In the latter, DePauw head coach Bill Lynch states, "This type of game is better than a bowl game because we're playing the same opponent at the end of every season. Bowl games don't have as much passion on both sides of the field like the Monon Bell. It's an emotional game." Lynch is also the subject of a profile in this morning's Indianapolis Star (read more here).

[Download Video: "2000 Monon Memory" - 1639kb]

[Download Video: "1997 Monon Memory" - 1537kb] All of the tickets on DePauw's side of the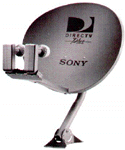 stadium are sold out for today's game, which kicks off at 1:05 p.m. About 500 seats are available on the Wabash side. A record crowd of 10,000 is expected today (read more here and here).
Per tradition, fans who are left without tickets can enjoy the game on television, and this year's contest will be the first-ever accessible nationally via DirecTV. All viewers need to do is tune to channel 321 on game day to catch every play, along with "Monon Memories" and the color that accompanies each Battle for the Bell. Nick Mourouzis, who retired as DePauw's head football coach at the end of the 2003 season with a record 138 victories, will provide color commentary on the broadcast. Viewers in Central Indiana can also see the Bell battle on WHMB/Channel 40 in Indianapolis. Read more about the telecast by clicking here and here.
Student radio station WGRE will provide comprehensive coverage of today's battle for the Bell. Streaming audio of the station can be accessed by clicking here.

[Download Video: "1974 Monon Memory" - 1811kb] If you want to cheer on the Tigers with fellow fans, alumni telecast parties will again held in approximately 50 cities across the nation. See where parties are being held in your area by clicking here.
A DVD of the game will be produced for a fourth year. It will include the entire g
ame, as well as an array of extras that fans will enjoy. Read more about the disc, and order it online by clicking here.
Wabash leads the all-time series 51-50-9, while DePauw leads in games played for the Monon Bell by a 34-32-6 count.
Visit DePauw's Monon Bell Web page here, and get the latest on the football program here. Access a list of "Monon Memories" -- video highlights of past Monon Bell games produced by DePauw director of media relations Ken Owen '82 -- by clicking here.
Back