DePauw Attracts "Incredibly Famous and Influential" Speakers, Purdue University Columnist Writes
November 15, 2004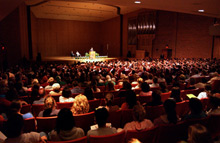 November 15, 2004, Greencastle, Ind. - "In a 24-hour span in mid-October at DePauw University, a school with a student population of less than my high school, I saw four incredibly famous and influential people speak," writes Evan Kelsey, a Purdue University student, in the Purdue Exponent. "U.S. Administrator L. Paul Bremer, the man who oversaw the transfer of power in Iraq; Lee Hamilton, vice-chair of the 9/11 Commission, who was being interviewed by ABC News' chief national security correspondent, John McWethy [DePauw '69]; and Public Enemy front man Chuck D."
In the op-ed column, Kelsey states, "Many of you complain that Purdue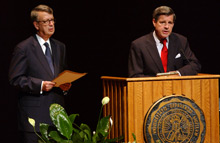 doesn't attract the speakers, concerts or programs that other schools do. You're right. We don't. Purdue is great at getting CEOs of Fortune 500 companies and experts in technical fields to come speak but really awful at attracting famous people on regular basis."
Read the complete essay by clicking here.
Read about Ambassador Paul Bremer's DePauw Ubben Lecture here; the "Issues for America" session that featured Lee Hamilton and John McWethy here; and Chuck D's visit here.
Back