Junior Wins Prestigious Broadcast Education Association Scholarship
November 15, 2004

November 15, 2004, Greencastle, Ind. - DePauw University junior Nicole Pence is the recipient of the of Broadcast Education Association's Alexander Tanger Scholarship. Pence will receive the award, which carries with it a $5000 award, at the BEA's 50th annual convention this spring in Las Vegas. Pence is a communication major who is off-campus this semester interning at FOX News network in Washington, DC.
"Nicole is a bright and energetic journalist with a great future in the broadcasting world," says Jeffrey McCall, professor of communication at DePauw and a 1976 graduate of the University. "She has the determination and journalistic instincts to be the kind of journalist who will make a difference. She has already won a variety of awards and acquired a good deal of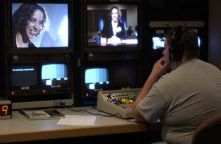 media experience, both on campus and in the professional setting. She is most deserving of this BEA award, which affirms that she is one of the top student broadcasters in the country."
The Broadcast Education Association is the professional association for professors, industry professionals and graduate students who are interested in teaching and research related to electronic media and multimedia enterprises. There are currently more than 1,400 individual and institutional members.
Visit the BEA online by clicking here.
Back