Prof. Craig Paré Offers 'A Timpanist's Plea' to The Instrumentalist
November 15, 2004
November 15, 2004, Greencastle, Ind. - "Since graduation from college I have pursued three passions: playing timpani, conducting, and teaching music," writes Craig Paré, associate professor of music and director of university bands at the DePauw University School of Music. Paré contributed an article to the October issue of
The Instrumentalist
magazine, entitled, "A Timpanist's Plea."
"As a player I have often been dismayed by the way many conductors deal with timpanists," the professor continues. "During a recent orchestra rehearsal the conductor motioned to the handle of his baton and mouthed 'stick.' I presumed that he wanted me to use a harder stick to bring out the rythms, a request I have received from other conductors. Timpanists and percussionists seem to be frequent recipients of such demands, and this has troubled me for some time... Perhaps this is because conductors equate a specific sound or color with the shape or hardness of a mallet, but the mallets do not create the sound -- the musician does."
Later, in the conclusion of the full-page essay, Paré concludes: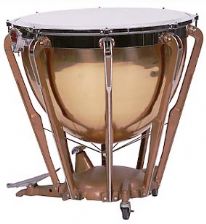 "To fellow conductors I request on behalf of student and professional timpanists everywhere that before suggesting that a specific mallet be used, directors first try asking for a certain tone quality. Just as percussionists expect conductors to give considerable thought to scores before rehearsing them, so too do good percussionists use experience, resourcefulness, and imagination to decide on the ideal timpani sound for the music. If conductors would remember to do this, the creativity may come as a pleasant surprise."
Visit The Instrumentalist online by clicking here. Learn more about the DePauw School of Music here.
Back