Charlie Cook to Address 'What The Election Will Mean to You' in Crain Lecture November 30
November 20, 2004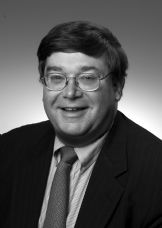 November 20, 2004, Greencastle, Ind. - He's been called "the Picasso of election analysis" by the Wall Street Journal. On Tuesday, November 30, Charlie Cook, editor and publisher of the Cook Political Report and political analyst for the National Journal magazine and CongressDailyAM, will come to the campus of DePauw University for a Gertrude and G.D. Crain Jr. Lecture. The event, at 4:15 p.m. in Watson Forum of the Eugene S. Pulliam Center for Contemporary Media, is free and open to all.
Widely regarded as one of the nation's leading authorities on US elections and political trends, Charlie has appeared on the major television networks' evening news programs, as well as on Good Morning America, Nightline and Meet the Press. He's also a frequent guest on MSNBC, C-SPAN, CNN and National Public Radio. Cook also writes a regular column for the Washington Quarterly, published by the Center for Strategic and International Studies, and is a political analyst for NBC News.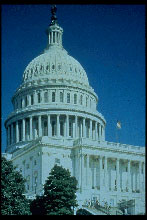 Before joining the National Journal Group in June of 1998, Charlie Cook wrote for 12 years a twice-weekly column in Roll Call, the newspaper of Capitol Hill. The New York Times has called Cook, "one of the best political handicappers in the nation" and noted that the Cook Political Report is "a newsletter that both parties regard as authoritative." David Broder of the Washington Post has written that Charlie Cook is "perhaps the best non-partisan tracker of Congressional races."
In October, Cook told Inc.com, "It used to be that income was the single biggest determinate in party affiliation, not anymore. In the South and states that border the region, rural, downscale white voters who ought to be Democrats vote on guns, abortion and other cultural issues and upscale white Northeastern voters in the older suburbs with six-figure incomes who ought to be Republicans vote the opposite. It's a fundamental shift in American politics." Read the complete interview by clicking here.
After the election, Cook wrote, "You have to give enormous credit to the Bush campaign, which unquestionably was the best planned, best executed presidential campaign ever." The political pundit said members of Bush's campaign staff "deserve the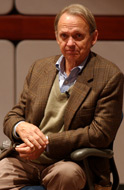 political equivalent of an Academy Award for running a campaign that always anticipated the next two or three moves down the chess board." Visit the Cook Political Report, a non-partisan, online analysis of electoral politics, here.
Endowed by Rance Crain, president of Crain Communications and a member of DePauw's Class of 1960, the lecture series, which honors Mr. Crain's parents, was created last spring to enrich the DePauw environment in the area of public affairs and public issues. Previous Crain Lecturers have included FactCheck.org director Brooks Jackson (seen in photo at left; read more here); veteran political columnist Jack Germond (read more here); military sociologist Charles Moskos (read more here); historian Douglas Brinkley, author of Tour of Duty: John Kerry and the Vietnam War (read more here); David A. Keene, chairman of the American Conservative Union (read more here); and Joe Trippi, who managed Howard Dean's presidential campaign (read more here).
Back