DePauw Team Wins Indiana Regional Ethics Bowl, Moves on to the Nationals
November 16, 2004
November 16, 2004, Greencastle, Ind. - A team from DePauw University won the sixth annual Indiana Regional Ethics Bowl, which was held over the weekend at Marian College in Indianapolis. DePauw sent two teams to the competition, in which twelve colleges and universities were represented. DePauw's "team one" -- composed of Patrick Murphy, Daniel Kelley, and Daniel Story -- won the event and earned the right to compete in the 11th annual National Ethics Bowl will take place in San Antonio, Texas, on Thursday, February 24, 2005.
"This speaks very highly of the quality of students we have at DePauw," says Marcia McKelligan, professor of philosophy and co-coach (along with professor of philosophy Bob Newton) of the Ethics Bowl teams. Dr. McKelligan had strong praise for the winning team, and for "team two": Adam Devlin, Michael Schmidt, and Luke Davis. "The two teams practiced together on several occasions and so the winning team benefited from the thinking of the other team. It was definitely a cooperative effort," she says.
Dr. Newton adds, "The Ethics Bowl competition gives students an opportunity to deepen their ethical understanding of complex, ambiguous, and highly viewpoint-dependent questions.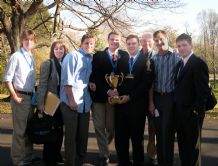 It's a terrific opportunity for students to learn and grow and our teams seized it."
The students who compete in Ethics Bowls represent a cross-section of majors -- an illustration of the breadth and depth of ethical dilemmas in our society. Besides DePauw, the Indiana Regional Ethics Bowl featured teams from a variety of other institutions of higher learning, including Butler University, Loyola-Chicago, Millikin, Wright State, and the University of Kentucky. At the Bowl, there are three matches in which each team competes against one other. Each team is scored by a panel of judges for each match. The criteria are:
Clarity: The ability to present a clear, specific argument that is internally consistent and easily understood by the judges.
Depth: The thoroughness of the team's argument; attention to detail, and the use of outside reference or fact.
Focus: The ability to relate the discussion to the case and question at hand; concentration on the main issue, not on superficial or peripheral details.
Logic: The validity of the team's reasoning; the use of reasonable judgment; the ability to present an argument that is plausible, persuasive, and cogent.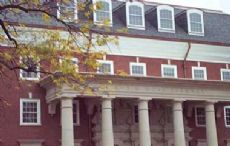 Winning is determined by total score for the three matches rather than by beating any other team. Judges included Tim Monger, executive director of the Indiana Department of Commerce; Ray Ingham, chief executive officer of Witham Hospital; and Jill Zengler, an attorney in the United States Attorney's Office, Southern Indiana District.
The Indiana Regional Ethics Bowl is hosted by Marian College and sponsored by Vectren Energy. It is the first step in a nationwide competition hosted by the Illinois Institute of Technology in conjunction with the annual meeting of the Association for Practical and Professional Ethics (APPE).
Back