"How About the Monon Bell Classic?," Asks Pittsburgh Post-Gazette
November 17, 2004
Also: See Monon Bell Game Highlights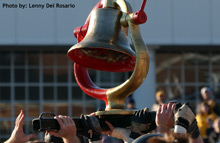 November 17, 2004, Greencastle, Ind. - In this morning's Pittsburgh Post-Gazette, Ray Fittipaldo writes, "how about the Monon Bell Classic? Division III Wabash and DePauw University in Indiana met for the 111th time last week. DePauw evened the series at 51-51-9 with a 14-7 victory before a record crowd of 11,504." The story examines "pride games" -- where two long-time rivals play for an annual trophy.
Fittipaldo notes, "it doesn't get any better than this for the college football fan. Teams play for trophies -- axes, buckets, jugs and cups -- but mostly they play for pride. You know the big ones: Michigan-Ohio State, Auburn-Alabama, Stanford-California. But how about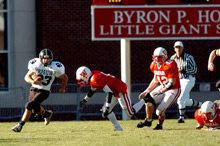 some under-the-radar rivalries?"
Access the column online by clicking here. See video highlights of Saturday's 111th battle for the Monon Bell and find links to game summaries, statistics and a photo gallery, by clicking here.
Saturday's victory, the sixth straight for the Tigers, gave them an 8-2 record on the season, the best since 1997. The game was televised nationally on DirecTV and alumni gathered in more than 40 cities to cheer on the Tigers at telecast parties.
Back