DePauw in Nation's Top 10 for Students Studying Abroad: 2004 'Open Doors' Report
November 17, 2004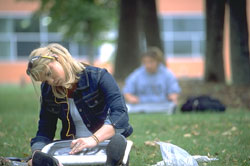 November 17, 2004, Greencastle, Ind. - DePauw University is among the top ten colleges and universities in the United States for sending students to study abroad, according to to Open Doors 2004, the annual report on international education published by the Institute of International Education (IIE) with funding from the State Department's Bureau of Educational and Cultural Affairs. The report, based on numbers from the 2002-03 academic year, finds that overall, the number of U.S. college students receiving credit for study abroad increased sharply by 8.5% from the previous year, reaching a record total of 174,629.
A news release highlighting the report's findings, states: "The top ten campuses, each sending more than 80% of their students abroad, are (in alphabetical order): Austin College, Centre College, Colby College, DePauw University, Dickinson College, Eckerd College, Elon University, Lynn University, Lyon College, and St. Olaf College."
"As the new Open Doors report shows, more students are studying abroad than ever before, a sign that young Americans clearly recognize the crucial role they will play in leading our nation into a world even more interdependent than it is today," says Patricia Harrison, the State Department's assistant secretary for educational and cultural affairs. "By encouraging more students to participate in educational opportunities abroad, U.S. colleges and universities and the federal government through programs like the Gilman Scholarships and the Fulbright Fellowships help expand our citizens' awareness of global issues and lay the groundwork for the kind of mutual understanding that builds a better future for all of us."
"These increasing numbers show that American students are continuing to reach out to the rest of the world, to experience other cultures
firsthand, and to become more engaged in international affairs," adds IIE President Allan Goodman. "However, those who do so are still a very small proportion of all U.S. students. IIE is working with campuses and U.S. government and private sponsors to reduce the financial hurdles for study abroad, and to assist students in acquiring skills and experience in countries and areas of the world critical to the future security of our nation. Graduating students with a global vision and global competencies will be key to America's economic success in the 21st century and to its ability to provide global leadership in the challenging times ahead."
The 8.5% increase measured in the new report almost doubles the previous year's 4.4 % increase. Since 1991-92, the number of students studying abroad for credit has more than doubled (from 71,154 to 174,629, an increase of 145%).
Read more by clicking here. Learn more about DePauw's off-campus study programs here.
For a fifth consecutive year, U.S. News & World Report ranks DePauw among

America's top national liberal arts colleges for the fifth consecutive year. The magazine's guide to "America's Best Colleges" also cites DePauw's first-year experience -- depauw.year1 -- as a "program to look for. Read more by clicking here.
Released Monday, the 2004 National Survey of Student Engagement (NSSE) finds that students at DePauw University enjoy significantly more academic challenges, interactions with faculty, collaborations with others and enriching educational experiences than students at peer institutions and the national average at all colleges and universities. Read more here.
Back