Two Seniors' "Toy Band" Spotlighted in Kansas City Star
November 18, 2004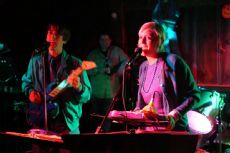 November 18, 2004, Greencastle, Ind. - "A band built on a gimmick needs more than just the gimmick to stay alive or regularly employed. Otherwise it quickly becomes a punch line missing its joke," writes Timothy Finn in today's Kansas City Star. "Toy Band comes to town from DePauw University in Greencastle, Indiana, with a repertoire that takes a big dare: that fans will want to watch Pete Ohs and Amanda Levy play their bouncy pop songs on a cache of kids' stuff." Ohs and Levy are both seniors at DePauw.
"Good thing their music isn't as novel as the instruments the songs are played on, which, according to Levy, amount to $40 worth of thrift-store toys all laid out on an ironing board," Finn's preview of Toy Band's Saturday performance at the Brick continues. "Their motto: Keep it light and simple. As Ohs told a music writer in Cincinnati recently: 'A lot of times I think bands do too much: Too
much soloing, too many drum fills, too many chords in a chorus; it's like my kindergarten music teacher told me, simple chord progressions plus simple melodies equals instant catchiness.' He's right about the catchy part."
Read the article online (a free registration is required) by clicking here.
Read a previous story about Toy Band here. Access Toy Band's Web site, which includes MP3 samples of the band's music, by clicking here.
Back