DePauw Symphony Orchestra to Perform Prokofiev's Peter and the Wolf in Holiday Concert Monday Night
November 18, 2004

November 18, 2004, Greencastle, Ind. - The DePauw Symphony Orchestra, under the direction of Orcenith Smith, will perform a holiday program that features Sergei Prokofiev's classic Peter and the Wolf on Monday, November 22, at 7:30 p.m. Also included on the program will be Aaron Copland's "Hoe Down" from Rodeo, Wolfgang Amadeus Mozart's Salzburg Sinfonie and Howard Hanson's Symphony No. 2. The event, which will take place in Kresge Auditorium of the Performing Arts Center, is free and open to the public.
Joining the orchestra on this program will be Tim Good, assistant professor of communication and theatre at DePauw University. Good will be serving as the narrator for Peter and the Wolf, adding his dramatic flare to this audience favorite.
The inclusion of the Prokofiev highlights an effort by director Orcenith Smith to provide an inclusive program at this festive time of year.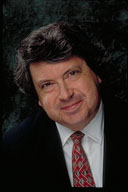 "The holiday season is oriented toward the family and family gatherings," says Smith. "As a result, I felt that the repertoire for this concert should focus on these concerns."
These issues were also important to Sergei Prokofiev when he wrote Peter and the Wolf in 1936. Inspired by his sons' enjoyment of children's theater, the Russian composer set out to create a work that would also fit into this genre. To overtly encourage the piece's programmatic content, Prokofiev chose to add a narrator to the orchestra, fashioning his text from an old Russian folk tale. On past recording releases, narrators of the piece have included the likes of David Bowie, Jack Lemon and President Bill Clinton.
Visit the DePauw School of Music online by clicking here.
Back