Seven Football Players Earn First-Team All-SCAC Honors; Bill Lynch Co-'Coach of the Year'
November 20, 2004
November 20, 2004, Greencastle, Ind. - Seven members of the DePauw University football team have been named to the All-Southern Collegiate Athletic Conference first team, and head football coach Bill Lynch has been named the SCAC co-Coach of the Year. Earning first team honors for the Tigers on offense were senior right tackle Jon Gratz, senior receiver Jamarcus Shephard and freshman running back Jeremiah Marks. Defensively, junior defensive end Dustin Hertel as well as senior linebacker Matt Koch, sophomore linebacker Eric Lewis and sophomore safety Greg Sylvester were named to the first unit.

Lynch directed the Tigers to an 8-2 record for the team's best finish since 1997. He is the first football coach in SCAC history to earn the honor in his initial season. As today's Houston Chronicle notes, Lynch shares the honor with Trinity's Steve Mohr, a nine-time winner of the award (access the news item here).
Meanwhile, the San Antonio Express-News reports that DePauw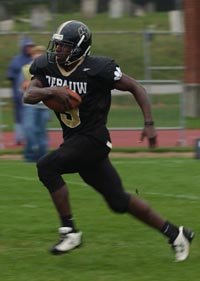 senior Jamarcus Shephard is the SCAC's special teams co-player of the year, along with Trinity's Robert Kelner with DePauw's Jamarcus Shepard (read more here, a free registration is required).
Shephard has also been selected to play for the American Football Coaches Association's Division III all-star team that will represent the United States against the Mexican National Team in the 2004 Aztec Bowl on December 11 in Cancun, Mexico. More details are available at the football team's Web site, accessible here.
The Tigers won their final six contests of the year, culminating in last Saturday's 14-7 victory over Wabash College in the 111th Monon Bell Classic (access video highlights here). After losing a heartbreaker to conference champion Trinity, DePauw never again trailed in a game for the remainder of the season.
Back