Senior's Articles Published in Two Magazines
November 22, 2004
November 22, 2004, Greencastle, Ind. - Seth Kinnett, a senior at DePauw University, is the author of two pieces that are published in magazines on newsstands now. Kinnett wrote, "An Elegant Afternoon: High Tea at West Baden Springs," which appears in the November/December issue of Evansville Living. The November edition of Indy Men's magazine features Kinnett's 'Men at Work' feature on Brice Bowman, an Indianapolis audio engineer and entrepreneur.
Of the high tea article in Evansville Living, Kinnett notes "My DePauw off-campus experience indirectly supplied the idea and inspiration for the piece. While I was studying at The University of Oxford last spring, I routinely visited The Grand Cafe for high tea with my friends. I loved it. It was the best part of the British cuisine. When I found out that the West Baden Springs Hotel near French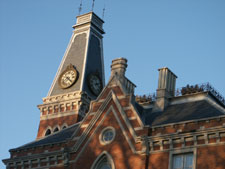 Lick, Indiana, served a similar meal, I thought 'here's something I can really write about.'"
Visit Evansville Living by clicking here. You'll find Indy Men's online here.
Seth Kinnett has now had four articles published in professional publications while studying at DePauw. Read a previous story here.
Back