Prof. Kevin Howley Published in Social Movement Studies
November 22, 2004
November 22, 2004, Greencastle, Ind. - "In recent years, the relationship between media and social movements has attracted considerable attention among academics and activists alike," writes Kevin Howley, assistant professor of communication and theatre, in the journal Social Movement Studies. Dr. Howley's article, "Remaking Public Service Broadcasting: Lessons from Allston-Brighton Free Radio," is published in the October issue (vol. 3, no. 2).
"Although social movement studies often examine the role communication and mass media play in mobilizing, legitimating and publicizing various socio-political movements -- from feminism an environmentalism, to the antiwar and civil rights movements -- it is less clear whether or not we can speak of a coherent and cohesive media democratization movement," the professor writes in his introduction.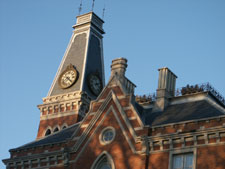 "This essay proceeds with the assumption that such a movement is well underway. In saying this, I am drawing upon my own experience as a media activist and an academic as well as recent scholarship that supports this assertion."
Social Movement Studies is an international and inter-disciplinary journal providing a forum for academic debate and analysis of extra-parliamentary political, cultural and social movements throughout the world. Visit the publication online by clicking here.
Back