Prof. Ken Bode Contributes to New Book, The Clinton Riddle
November 29, 2004
November 29, 2004, Greencastle, Ind. - Ken Bode, Eugene S. Pulliam Distinguished Visiting Professor of Journalism at DePauw University, offers an analysis of former President Bill Clinton and the press in
The Clinton Riddle: Perspectives on the Forty-second President
. A synopsis of the new book states, "In 2002 a distinguished interdisciplinary group of scholars gathered at the Diane D. Blair Center of Southern Politics and Society at the University of Arkansas to provide a critical evaluation of the Clinton-Gore administration. Their groundbreaking assessment of the most controversial president in modern times treats such crucial topics as race, women, and minorities; the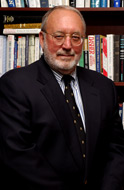 character issue; foreign policy; and the media. This book provides a unique vantage point on the 'Clinton riddle' that all future studies will need to consider."
Read more about the book by clicking here and access a news release on it here.  
Ken Bode is a former correspondent for CNN and NBC and hosted PBS' Washington Week in Review.  He contributes a weekly op-ed on politics to the Indianapolis Star.  Learn about his most recent column, from last Friday, by clicking here.
Back