John W. Busey II '90 Named Racine, Wisconsin's 'Young Professional of the Year'
November 27, 2004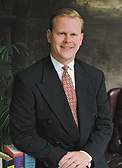 November 27, 2004, Greencastle, Ind. - An infectious drive and desire to make things happen were among the reasons cited by the Young Professionals of Racine, Wisconsin, when the organization named John W. Busey II '90 the 2004 Young Professional of the Year. "Having had the opportunity to foster and develop an organization like this and then to be honored by them is extremely gratifying," said Busey, who not only co-founded YPR in March 2001 but also served as the organization's president for two years. "I feel like a proud parent."
Busey, first vice president of investments and Racine branch manager of Robert W. Baird & Co., was one of 12 nominees for the second annual Young Professional of the Year Award. He received four of the 15 total nominations submitted.


"That alone is impressive," said Steve Torosian, a member of the YPR committee that selected Busey as this year's winner. "It wasn't necessarily the volume of the things John has done in the last year so much as the quality of the impact they've had on our community."
Busey's nominators praised his commitment to the Racine community, as well as his ability to bring people and resources together and his penchant for encouraging others to take active leadership roles.

Busey is very active in the Racine community. He is a member of the Founders Rotary Club of Racine, Sustainable Racine, and the Racine Area Manufacturers and Commerce (RAMAC) Board. He also serves as a member of the DePauw University Alumni Board and the Alpha Tau Omega Board of Trustees.

Busey was also nominated for the YPR award in 2003. In 2002 the Racine Journal Times named him among "30 under age 40" who are dedicated to improving the community.
Back