Lee Hamilton '52 Receives 'Distinguished Public Service Award' from the American University Center for Congressional and Presidential Studies
November 23, 2004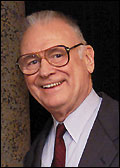 November 23, 2004, Greencastle, Ind. - Lee H. Hamilton -- vice chair of the 9/11 Commission, a U.S. Congressman for 34 years, and a 1952 graduate of DePauw University -- is the recipient of the American University Center for Congressional and Presidential Studies' (CCPS) Distinguished Public Service Award. Hamilton was presented the award at CCPS' 25th anniversary celebration.
"Lee Hamilton is a statesman who should be praised for his great comity, civility and bi-partisanship during his many years of public service," proclaimed CCPS Director James A. Thurber. "There has never been a question that his views were motivated by anything but principle and commitment to the national interests, and we are honored to acknowledge Lee for his years of public service."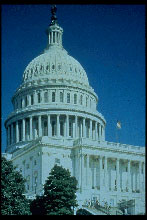 Hamilton is currently president and director of the Woodrow Wilson International Center for Scholars. He has been involved with CCPS, AU and the School of Public Affairs for many years as a lecturer, author (having contributed three essays for books on Congress and the Presidency), and last spring he received an honorary degree from AU at commencement.
During his tenure in the U.S. House of Representatives, Hamilton served as chairman and ranking member of the House Committee on Foreign Affairs, and chaired the Subcommittee on Europe and the Middle East from the early 1970s until 1993.
Hamilton remains an important and active voice on matters of international relations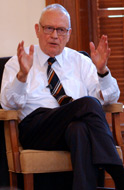 and foreign affairs. He served as a commissioner on the influential United States Commission on National Security in the 21st Century (better known as the Hart-Rudman Commission), and was co-chair with former Senator Howard Baker of the Baker-Hamilton Commission to Investigate Certain Security Issues at Los Alamos. He is currently a member of the advisory council for the U.S. Department of Homeland Security.
In September, Lee Hamilton returned to DePauw for "DePauw Discourse 2004: Issues for America," and discussed the work of the 9/11 Commission, the terror threat and other matters of national security. Read an account of his presentation, which includes audio and video clips, by clicking here.
Back