All-Campus Student Art Exhibit Opens December 9
December 1, 2004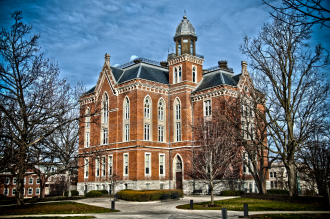 December 1, 2004, Greencastle, Ind. - DePauw University's annual, juried All-Campus Student Art Show, an exhibition of art created by students from the entire DePauw campus, opens Thursday, December 9 and runs through Thursday, December 16, 2004. The campus-wide, multi-media exhibition features ceramics, drawings, paintings, photography, mixed-media works and video created by DePauw students.
This year's guest juror is Javier Carmona, associate professor of photography at Dominican University, and gallery director of the O'Connor Gallery of Art, River Forest, Illinois. Awards will be announced during the show's opening reception on December 9, from 5 to 6 p.m., in the Visual Arts Gallery of the Richard E. Peeler Art Center.
Javier Carmona received his M.F.A. in photography/art history from the University of New Mexico, Albequerque, and a B.F.A. in graphic design/photography from the School of the Art Institute of Chicago. Besides the positions mentioned above, Carmona has also been visiting artist faculty and graduate critique faculty at the School of the Art Institute of Chicago. His work has been exhibited in both solo and group exhibitions at venues that include the Palacio de La Cultura, Tlaxcala, Mexico; the Mexican Fine Arts Center Museum, Chicago; Artists Space, New York; Ayuntamionto de Espiel, Cordoba, Spain; and the Museum of Science and Industry, Chicago.
Professor Carmona's visit will include several special events:
Wednesday, December 1, 4 p.m. - Slide Talk by Javier Carmona, Peeler Art Center Auditorium
Thursday, December 9, 5 - 6 p.m. - Opening Reception and Awards Announcement, Peeler Art Center, Visual Arts Gallery
The galleries at the Richard E. Peeler Art Center are open Monday through Friday from 9 a.m. to 4 p.m.; Saturday 10 a.m. to 4 p.m.; and Sunday 1-5 p.m. Please call the gallery information line at (765) 658-4882 or visit our website by clicking here for more information about special events associated with this exhibition.
Back