Associated Press Report on Tom Brokaw's Retirement Quotes His Friend and Former Colleague, Prof. Ken Bode
November 24, 2004
November 24, 2004, Greencastle, Ind. - An internationally distributed Associated Press story on next week's retirement of NBC news anchor Tom Brokaw includes the thoughts of a DePauw University professor. "'Brokaw has come a long way but he hasn't got the pretension of that status. He seems look-you-in-the-eye genuine,' said Ken Bode, a former NBC colleague who teaches journalism at DePauw University in Indiana. Bode, a fellow University of South Dakota graduate, has urged Brokaw to run for president, a notion the newsman politely rejects," writes David Bauder.
The story includes an interview with Brokaw himself, who tells the AP, "I think I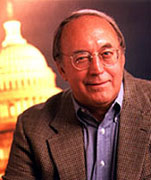 have a red and blue state sensibility, I think, having grown up in South Dakota and having spent a lot of my last 20 years in places like Montana, that I do understand these cultures and these states politically. But I also live in Manhattan and I'm keenly aware of the sensibilities of people in this part of the country. I'm a true purple person."
Read the entire piece at the San Francisco Chronicle's Web site by clicking here.
Professor Bode (seen in photo at right) suggested "Brokaw for President" in his weekly op-ed column, published in Friday's Indianapolis Star. Read more by clicking here.
Back