Student Documentary on Indiana's Meth Problem is Call to Action, Prof. Ken Bode Writes in Indianapolis Star
November 26, 2004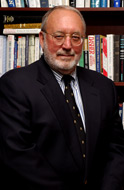 November 26, 2004, Greencastle, Ind. - Methamphetamines "which can be homemade in garages or barns or cooked outdoors in rural cemeteries, has reached epidemic proportions in our state," writes Ken Bode, Eugene S. Pulliam Distinguished Visiting Professor of Journalism at DePauw University, in today's Indianapolis Star. "Six months ago, with the cooperation of the entire justice system in Putnam County, four DePauw students prepared a documentary on this dangerously destructive, homegrown drug. They worked their way up and down the courthouse from judge to prosecutor to public defender. They interviewed the sheriff, the drug cops, the probation officer. They talked to prisoners doing time in the county lockup on meth charges and to retailers who sell the ingredients," Bode writes.
The professor notes that the students "learned about it from both sides of the law -- how meth is made and how easy it is to get the chemicals... From those in jail waiting for trial, they learned how addictive it is... And, while Indiana is supposed to be a rehabilitative state, we have no treatment pr
ograms for people incarcerated for meth or on parole. That leads to an extremely high percentage of recidivism. 'I never had a meth addict that ever quit and didn't return to it,' said parole officer Theresa Parrish."
In his weekly op-ed column for the newspaper, Dr. Bode concludes, "Meth is a plague in small towns and rural Indiana, and it is spreading. The state task force reported that the number of meth cases has gone up 200 percent since 1999, and meth seizures jumped from 177 to 1,500 in the same period. This has cost the state $100 million. In Vigo County, Sheriff Marvel's jail budget has risen from $812,000 to $3.5 million. In his RV travels, listening to cops and county officials all over Indiana, incoming Gov. Mitch Daniels got an earful about how meth has become our No. 1 law enforcement problem. Kernan received the task report on meth; Daniels can act on it."

Read the complete column by clicking here.
Ken Bode's other recent essays can be accessed here, here, here, here, here, here, here, here, here, here, and here. Two days ago. Bode was quoted in an internationally distributed Associated Press story on the retirement of his longtime friend and former NBC colleague, Tom Brokaw. Read more here.
(The students who produced the documentary are: Kate Billman, Bill Riley, David Morine and Jill Jacobs)
Source: Indianapolis Star
Back