A Record-Breaking 12.5 Million 'Hits' and 150-Thousand Unique Visitors at This Site Last Month
December 2, 2004
December 2, 2004, Greencastle, Ind. - A thrilling DePauw victory in the 111th Monon Bell Classic, DePauw's ranking as America's #3 "most connected" college, and Peyton Manning's Timothy and Sharon Ubben Lecture were three of the factors that pushed traffic on this Web site to a new, all-time record high in November. DePauw.edu received 12,552,770 "hits" last month, shattering the previous record of 10,892,473 from September 2004, and 20% more than the 10,165,885 recorded in November 2003. New highs were also set for visits (597,389) and page views (4,100,579). This was the destination of 150,514 unique visitors in November, another new all-time mark ("hits" is a count of all the successful hits including HTML pages, pictures, forms, scripts and files downloaded; unique visitors counts each user once per month; visits counts every time a user visits the site).
The news area of the site (click here) was the top destination besides the home page, attracting 53,906 visits and 143,543 page views last month. "The Monon Bell game, far and away, was the biggest magnet on our site last month," says Ken Owen, director of media relations. "The story that was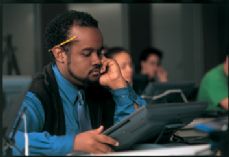 posted immediately after DePauw defeated Wabash 14-7, which includes video highlights of the game, received 48-hundred 'hits' in the two and half weeks between game day and the end of the month and is already the #17 story all-time on the site." The April 7, 2002 fire at Rector Hall has yielded the most all-time hits: more than 20,600. A total of 110 news stories were posted on the site last month, another new high.
The most downloaded file on the site last month was the 2004 DePauw football guide (1,615 downloads), followed by the student handbook (903), and the MP3 of The Ballad of the Monon Bell (745).
November's average visitor to DePauw.edu last month spent 17 minutes and 15 seconds on the site. Of the unique visitors, 114,031 stopped by the site just once, while the average visitor came to the site 3.97 times. Besides the homepage and the news area, the most widely viewed pages were the student (40,534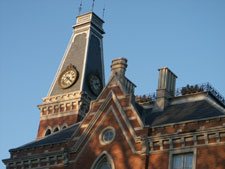 visits and 58,275 views) and athletics (21,044/28,406) pages, the class schedule search (17,405/66,121) and the libraries (15,912/46,308).
"Any way you stack them up, the numbers tell a compelling story -- that a university with 2300 students and 30-thousand alumni is attracting almost five times that many people to its Web site each month," notes Web director Scott Cooper. "It suggests that DePauw's people, programs and events -- and its growing national reputation as one of America's best liberal arts colleges -- are leading people to come to DePauw.edu and learn more. That's gratifying to all of us."
DePauw.edu "Hits" Unique Visitors
November 2004 12,552,770 150,514
November 2003 10,165,885 101,147
November 2002 7,804,993 69,924
November 2001 6,336,224 51,499
November 2000 3,161,231 28,662
Back