"Teaching Comic" of Prof. Jay Hosler '89 Featured in Magazine
December 6, 2004
December 6, 2004, Greencastle, Ind. - Jay Hosler, assistant professor of biology at Juniata College and a 1989 graduate of DePauw University, makes a unique contribution to the Autumn 2004 issue of
AWIS
, the magazine published by the Association for Women in Science. Dr. Hosler, whose two books are combination comic books and science lessons, offers another "teaching comic" -- "The Diabolical Dr. NoNoNo" -- to readers of the magazine.
"The use of images by humans for the transmission, communication, and storage of ideas predates written language by almost 27,000 years," Hosler writes in an introduction to the story. "Scientists have relied upon images to convey information and to excite the public's imagination. To do so, science illustrations often utilize sequential images, making concepts from cell division to evolutionary changes readily accessible... I have used comics for most of my career to convey the sense of wonder and joy I experience in learning about the natural world. 'The Diabolical Dr. NoNoNo' springs from my experience as a father and instructor."
Visit AWIS magazine online by clicking here.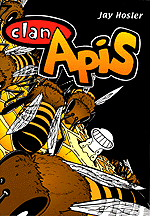 Jay Hosler is the winner of the Xeric Award and is a six-time Eisner Award nominee. His 2000 book, Clan Apis, tells the story of the life of a bee in comic book form. 2003's The Sandwalk Adventures is, according to the Chronicle of Higher Education, "not exactly standard superhero fare: Mara, a wisecracking young follicle mite living in Charles Darwin's left eyebrow, discovers that the great scientist can hear and converse with her. In a series of conversations that take place on his favorite walk, an exasperated Darwin tries to explain evolution as Mara pesters him with question after question... What The Sandwalk Adventures turns out to be, besides an entertaining and educational read, is a subtle and beautifully inked commentary on creationist opposition to the teaching of evolution. And Mr. Hosler, who is 36, did it all in his spare time." Read more about the professor at his Web site, or in this previous story.
Back