Lippincott, Cotton earn all-SCAC first team honors; five Tigers earn honors
November 16, 2004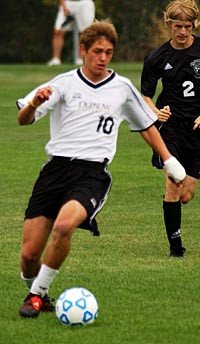 GREENCASTLE, Ind. - In voting by the 10 head coaches, DePauw junior midfielder Craig Lippincott (pictured) and senior defender Page Cotton were named to the All-Southern Collegiate Athletic Conference Men's Soccer First Team. The complete team is available here.
Lippincott led the 2004 Tigers with six goals, six assists and 18 points in earning his second consecutive first-team honor. Cotton, who missed the final seven games due to injury, earned his third all-SCAC honor after making the first team last year and the third team in 2002. He finished the season with three goals and one assist.
Senior defender Mark Prosser was named to the second team after finishing with four goals and two assists. Senior defender Evan Shook and junior midfielder Blaker Porter each earned spots on the third team. Shook was a second team choice in 2002.
Trinity's Chris Quinn was the Offensive Player of the Year, while teammate Andrew Wade was the Defensive Player of the Year. Oglethorpe's David Mueller was named the Newcomer of the Year and the Stormy Petrel's Jon Akin was named the SCAC Coach of the Year.
DePauw finished with its 23rd consecutive .500 or better season with a 7-7-1 overall record. The Tigers were 4-4-1 in SCAC play.
Back