Seven Tigers named first team all-SCAC; Shephard and Lynch earn individual honors
November 19, 2004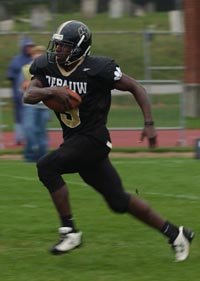 GREENCASTLE, Ind. - Seven DePauw football players have been voted to the All-Southern Collegiate Athletic Conference First Team in voting by the conference's seven head coaches. The complete release is available here.
Earning first team honors for the Tigers on offense were senior right tackle Jon Gratz, senior receiver Jamarcus Shephard and freshman running back Jeremiah Marks.
Gratz was a key part of an offensive line that help the Tigers to the second-best single-season rushing total in school history with 254.6 rushing yards per game.
Shephard, a first team selection in 2003 and second team in 2002, led the Tigers with 47 catches for 815 yards, seven touchdowns and a 17.3-yard average. The DePauw co-captain finished his career ranked fourth in SCAC history with 2,382 career receiving yards and fifth with 168 receptions. He ranked third in school history in receptions, fourth in receiving yards and second with 3,997 all-purpose yards. Shephard is one of 42 Division III players chosen to play in the annual Aztec Bowl.
Marks rushed for 922 yards which ranked third all-time in DePauw history and tops among all freshmen in school history. His four 100-yard games were also a school record for a freshman. Marks averaged 6.1 yards per carry.
Defensively, junior defensive end Dustin Hertel as well as senior linebacker Matt Koch, sophomore linebacker Eric Lewis and sophomore safety Greg Sylvester were named to the first unit.
Hertel also received one vote for Defensive Player of the Year after leading the Tigers with 17 tackles for losses totaling 67 yards including seven sacks for 42 yards. He totaled 41 tackles and added five hurries, one pass breakup, one forced fumble and a blocked kick.
Koch, a co-captain, recorded 33 tackles including 2.5 for loss, two interceptions, three jurries, one pass breakup and one forced fumble. Lewis finished the 2004 campaign with 50 tackles with five for losses of 15 yards including three sacks. All thee of his sacks came in the Monon Bell win at Wabash. Lewis also broke up three passes, had two hurries and forced one fumble. Sylvester led the team with 54 tackles including 2.5 for loss. He added one interception and four breakups.
Additionally, head coach Bill Lynch shared SCAC Coach of the Year honors with Trinity's Steve Mohr while Shephard shared SCAC Special Teams Player of the Year accolades with Trinity's Robert Kelner. Dan DesPlaines of Trinity was the Offensive Player of the Year and Rose-Hulman's Jake Vieck was the Defensive Player of the Year.
Lynch, in his first season as head coach, directed the Tigers to an 8-2 record for the team's best finish since 1997. He is the first football coach in SCAC history to earn the honor in his initial season. The Tigers finished the season with a 5-1 mark in SCAC play which was good for second place and won their final six contests. Lynch, who was previously the head coach at Butler and Ball State earned three conference coach of the year honors at Butler.
Shephard, the 2003 SCAC Special Teams Player of the Year and consensus all-America pick at the end of the 2003 season and in the 2004 preseason, finished his career as DePauw's all-time leader in kickoff return yards and average. His 28.0 yard career average ranks sixth in Division III history.
DePauw players named to the second team included junior center Chad Homan, junior tight end Chase Jonason, junior quarterback Ross Wiethoff and junior defensive end Darron Lasley.
Senior fullback Chris Brolsma, junior receiver Brian Culp, senior running back Matt McMahon, senior safety Cory Partlow and senior corner back Obinna Ugokwe each were named honorable mention.
Back