Tigers open season with 15-point win over Kalamazoo
November 19, 2004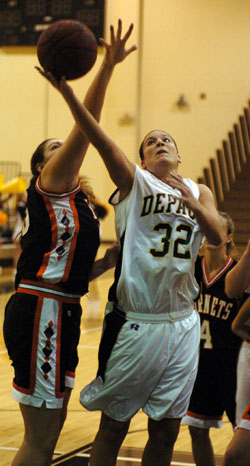 GREEENCASTLE, Ind. - DePauw forward Amy Argetsinger scored 20 points in just 24 minutes to lead the Tigers to a 78-63 victory over visiting Kalamazoo in the second game of the DePauw Tipoff Tournament and the season-opener for both squads.
The Tigers, ranked seventh in the preseason coaches' poll and eighth by D3hoops.com, trailed at the intermission by a 34-33 count before opening the second half with an 18-4 run to push the lead to 51-38 with 12:55 left. DePauw extended the lead to as many as 20 at 72-52 with just under five minutes to play.
Argetsinger pushed her career point total to 1,046 and moved into fifth place on DePauw's all-time scoring list. Senior guard Sarah Zondor added 14 in the win. Angie Neu led the Hornets with 15 followed by Mary Brown and Ashley Riley with 12 apiece.
The Tigers shot 49 percent from the floor including 54.5 percent in the second half. Kalamazoo connected on 33 percent from the field and just 23.5 percent in the second half. DePauw held a 42-32 advantage on the boards with Lindsay Houin and Argetsinger each grabbing six. Brown led the Hornets with seven rebounds, while Riley blocked four shots.
DePauw takes on Washington (Mo.) in Saturday's championship game at 4 p.m. Kalamazoo and Illinois Wesleyan square off in the 2 p.m. consolation game.
Back