15th-ranked DePauw defeats 11th-ranked Millikin; Argetsinger named Classic MVP
December 4, 2004
STATS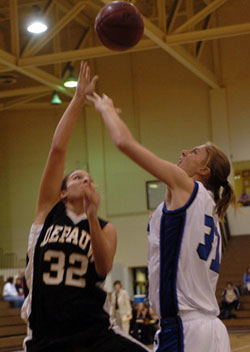 December 4, 2004, Greencastle, Ind. - Sarah Zondor scored 19 and Amy Argetsinger added 18 as the 15th-ranked Tigers defeated 11th-ranked Millikin by a 64-55 count at the Neal Fieldhouse. The win, DePauw's first ever over Millikin in 11 tries, improved the Tigers' overall mark to 5-1. The Big Blue dropped to 4-1 with the defeat.
The Tigers held Millikin scoreless for a six-minute stretch late in the contest after the Big Blue had closed to within three. Argetsinger's two free throws with 1:02 left capped off an 8-0 run and gave DePauw a 60-49 advantage.
A 9-0 first half run with buckets from Lindsay Houin and Argetsinger as well as a basket and three by Zondor propelled the Tigers to a 25-15 lead with 4:37 remaining and DePauw took a 34-24 advantage into the intermission.
Caitlin McGonigal added 11 points and eight rebounds in the winning effort, while Houin finished with a game-high nine rebounds and shared the lead with Suzy Doughty with four assists apiece.
Laura Zimmerman led the Big Blue with 13 points, while Lindsey Koehn added 10 points. Olson and Koehn each hauled down six rebounds in the loss.
Argetsinger was named the Classic MVP, while Zondor, Koehn, Millikin's Joanna Conner, Rose-Hulman's Rebekah Forsyth and Manchester's Erica Sewell also earned spots on the all-tournament team.
DePauw hosts Rose-Hulman in Southern Collegiate Athletic Conference action on Thursday, December 9, at 6 p.m.
Back