Intelligence Reforms, Unanimously Approved by 9/11 Commission Vice-Chaired by Lee Hamilton '52, Face "Showdown" on Capitol Hill This Week
December 5, 2004
December 5, 2004, Greencastle, Ind. - "The President has put his position, his prestige, his credibility, on the line on this bill," says Lee Hamilton, vice chair of the 9/11 Commission and a 1952 graduate, in today's Philadelphia Inquirer. The story examines this week's "showdown" on Capitol Hill over a bill that would overhaul the nation's intelligence network. In his Saturday radio address, President Bush pushed for support of the legislation, which was recommended by Hamilton's commission but is opposed by two Republican House committee chairmen.
"This is the first test of that after his reelection. I don't think the President wants to take a defeat," Hamilton, who served for more than three decades in the U.S. House of Representatives, continued. Read the complete story by clicking here.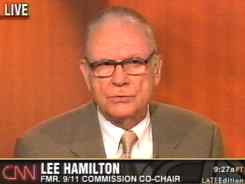 Lee Hamilton discussed the work of the 9/11 Commission and the challenges America faces in a September 17 visit to DePauw. Read an account of the event, including video and audio clips, by clicking here.
Hamilton recently received the American University Center for Congressional and Presidential Studies' (CCPS) Distinguished Public Service Award. Read more here.
Back