Unprecedented Two Faculty Members Receive Exemplary Teaching Award
December 7, 2004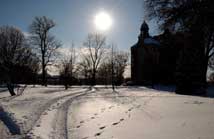 December 7, 2004, Greencastle, Ind. - For the first time in its history, the annual Exemplary Teaching Award -- given jointly by DePauw University and the General Board of Higher Education of the United Methodist Church -- is being presented to two professors at DePauw University. Tamara M. Beauboeuf, assistant professor of education studies and sociology; and Robert P. Hershberger, associate professor of modern languages (Spanish), are the 2004-05 recipients. The award recognizes faculty members who exemplify excellence in teaching, civility and concern for students and colleagues, commitment to value-centered education, and service to students, the institution and the community.
"Each fall I issue a call for nominations from faculty colleagues," says Neal B. Abraham, executive vice president, vice president for academic affairs and dean of the faculty. "After review of these nominations and study of the annual reports and personnel files of the nominated faculty members, I select the recipients. For the current year I received so many and such strong nominations that I decided to make
two awards."
Bob Hershberger (seen at right) joined the DePauw faculty in modern languages in 1998. "He has been an exemplar for his faculty colleagues in the teaching of languages, particularly in the use of various technologies to enhance both teaching and learning," Dr. Abraham states. "His teaching is particularly exemplary for its student-centered approach. Students speak of the effectiveness with which he has drawn them to mastery and fluency. He has enriched the curriculum with new courses in film and Hispanic literature. He has helped to attract higher numbers of majors and minors. He has been a dedicated leader and contributor to the Winter Term in Service program. He has authored elementary and intermediate textbooks which adhere to the standard of his pedagogy which prioritizes oral proficiency attained through a communicative approach to instruction. And he has served as a mentor to both junior and
senior faculty colleagues."
Tamara Beauboeuf joined the DePauw faculty in sociology and education in 2001. Abraham notes, "In a few years she has demonstrated exceptional abilities to bridge teaching in two different departments, one since renamed to education studies. She has provided inspiration to colleagues through her new courses; she has led Winter Term trips that were particularly effective for her students; and she has contributed greatly to the development of the new curriculum for the education studies department, just as she contributed effectively to the work of the General Education Task Force. She has inspired a number of faculty colleagues and attracted many students to each of her departments. Students speak in glowing terms of the rigor of her courses and the demands she places on them, and they express gratitude for her dedication and devotion to their learning."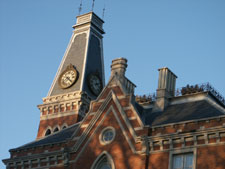 Previous recipients of the Exemplary Teaching Award are Tom Chiarella, Andrea Sununu, Valarie Ziegler, Craig Paré, John Dittmer, Terri Bonebright, Carl Singer, David Field and Jackie Roberts.
"Together they provide inspiration to all of us as models of DePauw's enduring commitment to the pre-eminent importance of creative and effective teaching by its faculty members," Dr. Abraham said.
Back