Monon Bell DVD Ships; Holiday Delivery Guaranteed
December 7, 2004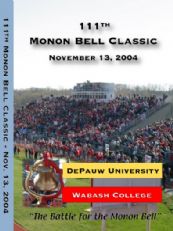 December 7, 2004, Greencastle, Ind. - The DVD of the 111th Monon Bell Classic is on its way to buyers. The discs, which were jointly produced by DePauw University and Wabash College and replicated at Sony Disc Manufacturing, were delivered this afternoon and are being prepared for shipment. "Our goal was to get the DVD to people in plenty of time for the holidays, and we've met it," says Ken Owen '82, director of media relations at DePauw. "The discs should begin arriving in mailboxes in the next few days, and those who order in the next week or so should have their DVD in time for Christmas."
[Download Video: "See The Ballad of the Monon Bell" 9364kb]

[Download Audio: "Hear The Ballad of the Monon Bell" 2900kb]
The disc includes the entire game, 32 'Monon Memories' of past battles for Bell, a photo gallery, all-time scores, and the Ballad of the Monon Bell music video. Owen edited and mastered the platter, and Jim Amidon, director of public affairs and marketing at Wabash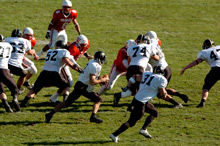 College, produced the cover art. Owen and Amidon co-produced the telecast of the game, which was seen nationally on DirecTV. DePauw University's Matt Bowen created the on-screen menus and the images seen in the 32-image photo gallery.
The DVD is available online for $12. Access the order form, which may also be mailed in, by clicking here. DVDs of the 2001, 2002 and 2003 games are also still available.
[Download Video: "1997 Monon Memory" - 1537kb]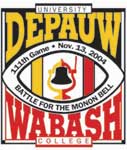 For a recap of the 111th Monon Bell Classic, including video highlights of the game, click here. A photo gallery of images from the game is accessible by clicking here. Visit DePauw's Monon Bell Web page here, and get the latest on the football program here. Access a list of "Monon Memories" -- video highlights of past Monon Bell games produced by Owen -- by clicking here.
The all-time series is knotted at 51-51-9, while DePauw leads in games played for the Monon Bell by a 35-32-6 count.
Back