Author Cathy Day '91 is a Story Prize Finalist
December 9, 2004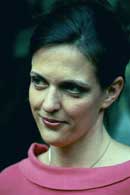 December 9, 2004, Greencastle, Ind. - "Cathy Day hoped when she released her first book, The Circus in Winter, people would read it and like it, and just maybe, she might be considered for an award," begins an article on the 1991 DePauw University graduate in Indiana's Kokomo Tribune. "The Peru native's hope came true this week, when she was selected as one of three finalists for the Story Prize, given by Story magazine. The Story Prize honors the author of an outstanding collection of fiction. It is a new award."
Danielle Rush writes, "Day said she thinks the book is doing well because even though it's her first, she spent 12 or 13 years working on it through her undergraduate years at DePauw University and graduate school at University of Alabama at Tuscaloosa. 'I think everybody hopes when you publish a book that people will really like it. It's pretty rare for a first book, especially a book that is not a novel, to be considered for book awards,' she said.
The article points out, "The other two authors nominated are Edwidge Danticat for The Dew Breaker, a Today Book Club selection in May, and Joan Silber for Ideas of Heaven,
a finalist for the National Book Award. 'It's a great honor to be coming out with my first book and be in their company,' Day said.
Rush adds, "Day said if she wins, she'll use the $20,000 in prize money to take more time off from her teaching job at The College of New Jersey, to work on her second book. She is considering doing a story about fellow Peru native Cole Porter and his wife, Linda, or maybe about a hospice nurse."
Access the story at the newspaper's Web site by clicking here.
The Circus in Winter received praise from a number of publications, including the New York Times, Newsday, MSNBC.com and Sports Illustrated.
Back