Lyric Tenor Thomas Cooley '91 Profiled in Minnesota Newspaper
December 10, 2004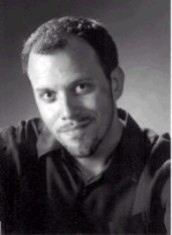 December 10, 2004, Greencastle, Ind. - Thomas Cooley, a 1991 graduate of DePauw University, "can't decide which he likes more -- concerts or opera," writes Minnesota's Osseo-Maple Grove Press. "Fortunately, he doesn't have to make a choice. A lyric tenor, Cooley has been making a name for himself in both venues, singing in the concert halls and opera theaters of the United States and Europe. And he recently returned to Minnesota to sing the Mozart C minor Mass and the Bach Magnificat on November 4 and 5 under the direction of Helmuth Rilling with the Minnesota Orchestra."
The story notes that after graduating from Osseo High School, "Cooley began his studies at DePauw University in Indiana. Initially, he planned on a double major of sociology and music education. But in the first semester he dropped the sociology part, he said, and in the second semester he dropped the education part, making the decision to go strictly for performance. 'My teacher convinced me I had the talent to do it for a living,' said Cooley. The teacher also told Cooley he would have to have patience, though, because as a tenor his voice would not develop fully until he was in his late 20s."
Kathy Hara writes of how Cooley "returned to the Twin Cities area after college and worked at day jobs while he gained performance experience with such g
roups as the Minnesota Opera, the Minnesota Chorale, the St. Paul Chamber Orchestra, House of Hope Presbyterian Church and St. Agnes Catholic Church. Eventually, he also continued his formal studies and earned a master of music degree from the University of Minnesota."
Cooley won a scholarship and used it to study in Munich. "I stayed for three weeks," the DePauw graduate tells the newspaper. "But then I came back here for nine months to wind things up, then I returned to Munich and I've been there ever since." Down the road, Cooley hopes to sing at the Metropolitan Opera and Carnegie Hall. "I know it's possible. People at my theater sing there, and they say yes, you can do that."
Read the lengthy story at the newspaper's Web site by clicking here. Access a previous story on Thomas Cooley here.
Back