CEO Steve Sanger '68 Discusses 'Innovation at General Mills: Trix of the Trade'
December 11, 2004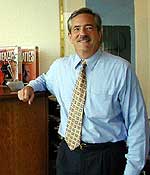 December 11, 2004, Greencastle, Ind. - "A simple reason that the brands of General Mills Corp. have been around since the 1930s and can be found in 98 percent of American households is a result of General Mills' culture of innovation, maintains chief executive officer Stephen Sanger," begins an article on a recent presentation by Sanger, a 1968 graduate of DePauw University, at the University of Michigan. The Michigan Daily notes, "The company, whose brands include Pillsbury, Yoplait, Betty Crocker and Häagen Dazs, is the world's sixth-largest food corporation, serving up more than $12 billion annually in more than 100 markets worldwide."
Sanger, who holds an M.B.A. from Michigan, spoke on "Innovation at General Mills: Trix of the Trade." He said his company has continued to grow by listening to consumers and responding to their needs. For instance, General Mills has made its products more convenient to use. "The cooking skills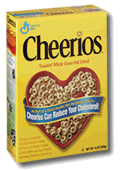 of the average American have decreased significantly in the past few years," Sanger said.
The CEO told his audience that over the past 75 years, shares of General Mills have nearly doubled the annual return of the Dow Jones Industrial Average -- 7.5% growth versus 4.8% for the Dow. As Alex Garivaltis writes, "Although 15 percent of General Mills' revenue comes from rapidly growing international markets, 85 percent of the company's business is conducted in the mature domestic market. Sanger said although his company's products can never become obsolete, domestic revenue growth is limited by the growth of the US population. 'Our rate of growth internationally is more than double the national rate,' Sanger said. He said the company's businesses in booming Asian markets are in the range of 30 to 40
percent."
Read the complete story, which includes a color photo from the speech, by clicking here.
In October, Steve Sanger was the recipient of a 2004 Diversity CEO Leadership Award from Diversity Best Practices (DBP) and the Business Women's Network (BWN). The award recognizes business leaders who are proven champions and advocates of creating inclusive, respectful, and diverse corporate cultures. Read more here.
Sanger received an honorary degree from DePauw at its commencement exercises in May 2004. Read more, and access a video clip, here.
Back