Ethicists, Including Bob Steele '69, Debate Soldier's "Planted" Question for Defense Secy. Rumsfeld
December 10, 2004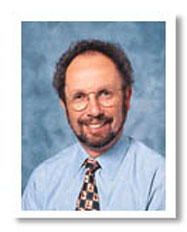 December 10, 2004, Greencastle, Ind. - "The soldier who made headlines Thursday by challenging Defense Secretary Donald Rumsfeld on the lack of armor for military vehicles prepared his question with the help of an embedded reporter, according to an e-mail the reporter sent to his colleagues back home," begins a story in today's San Francisco Chronicle that includes analysis from a DePauw University graduate. "The revelation has raised questions about journalistic objectivity and whether the press manipulates the coverage of events."
The story, by Dan Fost, quotes several experts in the field of ethics -- some who feel the reporter's involvement was wrong, and others, like Bob Steele, senior ethics faculty at the Poynter Institute and a 1969 graduate of DePauw, who don't see a problem. "The soldiers were not deceived. They knew what was going on. They didn't have to ask the question.
The sergeant who was controlling the microphone didn't have to choose the soldiers that the reporter suggested."
Access the complete story at the Chronicle's Web site by clicking here.
Source: San Francisco Chronicle
Back