Indiana Roots of John Jakes '53 Explored in His Latest Best-Seller, Savannah
December 13, 2004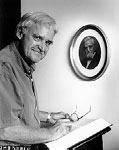 December 13, 2004, Greencastle, Ind. - Best-selling author John Jakes "spent part of his boyhood in Plainfield, [Indiana,] where his father was a Railway Express agent. Later, when he decided on writing as a career, he went to DePauw University in Greencastle, graduating in 1953," notes an Indianapolis Star review of Jakes' new book, Savannah: Or, A Gift for Mr. Lincoln. "This background comes into play in Savannah, especially the Greencastle/Putnam County area, as members of a fictitious Indiana regiment make up some of the 'bummers' who were allowed to pillage the Georgia
countryside during that infamous march."
Access the complete review by clicking here.
John Jakes is the author of sixteen consecutive New York Times bestsellers and has been called "the godfather of the historical novel." The Star's Lynn Hopper notes that Jakes "is one of those writers who have attained the status of having his name placed above the title of his book, and in larger letters." Read more here.
Back