Betsy Enloe '83 Named COO of Trumbull Services
December 20, 2004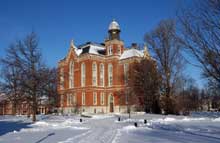 December 20, 2004, Greencastle, Ind. - Betsy Enloe, a 1983 graduate of DePauw University, has been named chief operating officer at Trumbull Services, L.L.C. Enloe comes to Trumbull from The Hartford where she spent 19 years in a variety of roles, most recently serving as the assistant vice president of the strategic business development organization. Trumbull is a leading provider of business process outsourcing and technology services to the property and casualty insurance industry.
"I am pleased to announce this addition to Trumbull's management team," says Stephen Francis, president of Trumbull. "Betsy understands the business needs of the company and will be focused on advancing and improving both the technology and operations."
He adds, "Trumbull anticipates significant growth in the coming year. A person with Betsy's operational skills and technical experience is a wonderful addition to our executive staff and will ensure that we continue to maximize current resources, and set the strategic direction for our operations group to accommodate this anticipated growth. Betsy's addition affirms our commitment to maintain a high level of client satisfaction as we further expand our client base and service offerings."
An announcement at Yahoo! News notes, "Ms. Enloe holds a Bachelors degree in economics from DePauw University and a Masters degree in computer science from Rensselaer Polytechnic Institute."
Read more by clicking here. Visit Trumbull's Web site here.
Back