Ken Kirkpatrick Appointed Registrar of the University
December 16, 2004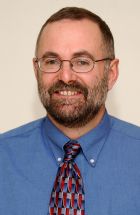 December 16, 2004, Greencastle, Ind. - Kenneth J. Kirkpatrick, associate dean for academic affairs, has been appointed registrar of DePauw University and associate dean for academic affairs. Kirkpatrick replaces Eleanor S. Ypma, who is retiring next month after nearly 36 years of service to DePauw, 33 as registrar.
"Ken Kirkpatrick will bring a wealth of experience to the registrar's office and its outstanding professional staff," says Neal B. Abraham, executive vice president, vice president for academic affairs and dean of the faculty. "Dr. Kirkpatrick has significant knowledge of DePauw, which he has gleaned from his work on faculty and administrative committees, in the classroom, as coordinator of program assessment, and as a team member for the administrative systems upgrade project."
Dr. Abraham continues, "The DePauw community joins me in thanking Dr. Ypma for a distinguished career of service and leadership at DePauw. I am confident that Ken Kirkpatrick will continue the tradition of excellence that Ellie leaves behind."
Kirkpatrick earned his B.A. from Boise State University and his Ph.D. in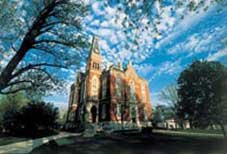 English and American Literature from Harvard University. During his fourteen years at DePauw he has served as director of the writing program and director of the academic resource center. In his most recent position as associate dean for academic affairs, Dr. Kirkpatrick has had responsibility for coordinating assessments of DePauw's academic departments and programs.
Ken Kirkpatrick also has served as a member of the English department, teaching courses in college writing, business writing, language, and literature, as well as first-year seminars on film and the Internet. Kirkpatrick's wide-ranging interests have led him to enroll as a student in biology, chemistry, and computer science courses and to experience academic life at DePauw from a student's perspective.
"Ken joins the registrar's office as we prepare to make further improvement to data systems for student life and academic affairs, supplementing the pioneering work which Ellie has done to create Academic e-
Services," Dean Abraham adds. "These improvements will affect the way we disseminate information as well as the way student records are stored and secured. Ken's skills in information technology systems will serve the University well as we make this transition. His experience as chair of administrative committees and as a member of faculty committees will also be valuable in the stewardship of academic policies, assuring that these policies are fully understood and consistently applied. We are delighted to have someone with Ken Kirkpatrick's skills and background to lead the important work of the registrar's office at DePauw."
Back