Senior All-American Jamarcus Shephard Invited to Play in Hula Bowl Maui All-Star Football Classic
December 15, 2004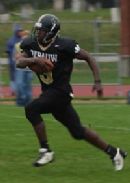 December 15, 2004, Greencastle, Ind. - "DePauw University senior wide receiver Jamarcus Shephard has accepted an invitation to compete in the 2005 Hula Bowl Maui All-Star Football Classic," reports today's edition of Greencastle's Banner-Graphic, noting that Shephard is one of only two Division III players to be invited. The game, which will be televised nationally on ESPN2 and carried on the Westwood One/CBS radio network, will be played January 22 at 7 p.m. on the Hawaiian island of Maui.
"Shephard will compete for the East team and is the first DePauw player to earn a spot in the Bowl game," the newspaper notes. "Shephard also learned recently that he earned All-America honors by the American Football Coaches Association for the second consecutive season. He was one of four Division

III players to earn honors for two straight years ... In his four-year career at DePauw, Shephard finished as the school's all-time leader in kickoff return yards and kickoff return average. His 28.0 career return average ranks sixth all-time in Division III history."
Read the complete text by clicking here, and learn much more about Jamarcus Shephard and his Tiger teammates at the football team's Web page, accessible here. Read about his All-American selection in the Times-Leader of Wilkes Barre, Pennsylvania here. Shephard participated in last weekend's 2004 Aztec Bowl in Cancun, Mexico. Read more here.
Back