Week's Headlines Tell of "Increasingly Costly and Incompetent" US War Policy, Prof. Ken Bode Writes
December 17, 2004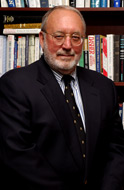 December 17, 2004, Greencastle, Ind. - "This past week the headlines in the news fit together like the pieces of a puzzle," begins Ken Bode's weekly op-ed in today's Indianapolis Star. DePauw's Eugene S. Pulliam Distinguished Visiting Professor of Journalism adds, "Each news story added another dimension to the emerging picture of war policy that is increasingly costly and incompetent."
Dr. Bode notes that days after a soldier questioned Secretary of Defense Donald Rumsfeld about the shortage of armored Humvees in Iraq, "The Pentagon suddenly announced it found $4.1 billion, immediately earmarked to armor up Humvees." He questions why the military chose to punish six Ohio reservists who "took parts from two abandoned tractor-trailers to fix their own vehicles so they could carry out their mission in Iraq." And, the professor believes that President

Bush sent the wrong message by awarding the Presidential Medal of Freedom to retired Gen. Tommy Franks, who oversaw combat in Afghanistan; L. Paul Bremer III, former US administrator to Iraq; and former CIA Director George Tenet.
Franks "planned for the invasion but failed to plan at all for any insurgency. Then Franks took early retirement while his war was still going on. What general does that?," Bode asks. Tenet "tried but failed to produce intelligence proving that Saddam had WMD, and produced very little about al-Qaida before 9/11," while Bremer "helped feed the insurgency by disbanding the entire Iraqi army, thereby creating hundreds of thousands of armed, unemployed troops who hated the US. Well done! Thus President Bush puts an official stamp of success on a war whose endgame grows more uncertain day by day."
The professor, former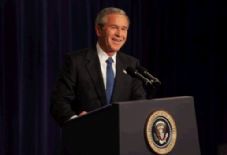 senior political analyst at CNN, concludes, "That brings us to the final headline: 'At Bush Inauguration, Lunch Will Set You Back $250,000.' This is a lunch with Bush and Vice President Dick Cheney, obviously exclusive to the high tax brackets. There will also be a 'Salute To Those Who Serve,' with free tickets for the military. The arithmetic is too tempting. It costs $25,000 to fully armor a Humvee. Each $250,000 lunch ticket could go straight to equipping 10 vehicles, so our reservists and Guards in Iraq won't have to ride around with homemade sandbags on the floor. Do it, Mr. Bush. Donate your lunch money to the troops."
Access the complete column at College News.org.
Ken Bode's other recent columns can be accessed here, here, here, here, here, here, here, here, here, here, and here.
Back