Sports Illustrated Calls Book by Prof. Tom Chiarella a "Holiday Must-Buy"
December 21, 2004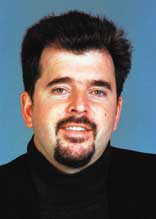 December 21, 2004, Greencastle, Ind. - "Generally, I don't like golf books," writes Chris Lewis in his "Inside Golf" column on Sports Illustrated.com. "Most are just overgrown magazine articles, padded out with page upon page of filler. But this year delivered an unexpected surprise: Tom Chiarella's Thursday's Game. Chiarella is the best golf writer you've never heard of -- unless you read Esquire, Links or Washington Golf Monthly, magazines to which he regularly contributes." Chiarella is a professor of English at DePauw University.
Lewis' column, which runs down the "Top-five holiday must-buys," continues, "This book collects recent articles, which range from ruminations on afternoons with his regular foursome, to think-pieces on pros like Sergio Garcia and John Daly (the latter of which is essential reading). What holds the book together is the easy, meditative rhythm
of Chiarella's prose, which somehow seems closely related to hitting balls on the range."
Access the article by clicking here. Learn more about Thursday's Game: Notes from a Golfer with Far to Go at the publisher's Web site and at Amazon.com and Barnes & Noble.com.
Tom Chiarella's Esquire article, "The $20 Theory of the Universe", is a 2004 National Magazine Award finalist. Read it here or here.
His first collection of stories, Foley's Luck, was published by Alfred A. Knopf in 1992 to wide acclaim. He is also the author of a textbook, Writing Dialogue, published by Writer's Digest Books in 1998.
Back