DePauw defeats Earlham in Hasbrook Tournament
December 29, 2004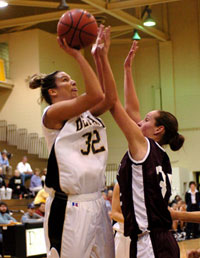 December 29, 2004, Greencastle, Ind. - The sixth-ranked Tigers scored 12 straight first-half points to start a 19-2 run on the way to an 84-47 victory over visiting Earlham in the second game of the Amy Hasbrook Memorial Tournament. DePauw improved to 8-2, while the Hustlin' Quakers dropped to 2-7.
Amy Argetsinger (pictured at left) led the Tigers with 14 points and moved into fourth place on DePauw's all-time scoring list with 1,170 career points. Her five rebounds pushed her career total to 502 which made her just the second player in school history with 1,100 points and 500 rebounds (Susan Bender is the other with 1,175 points and 575 rebounds). Caitlin McGonigal and Jordan Cuddy each chipped in 11 in the win as 12 of the 18 Tigers who played reached the scorebook.
The Tigers held a 39-31 advantage on the boards with McGonigal leading the way with six followed by Argetsinger and Liz Bondi with five apiece. Suzy Doughty dished out a game-high six assists and led all players with four steals.
Guin Summerton paced Earlham with 12 points, while Ajia Coleman and Ani Hanelius each hauled down five rebounds. and Samantha Lurie dished out five assists.
Earlham led on three occasions in the opening four minutes and trailed by just one at 15-14 before the Tigers scored 19 of the game's next 21 points to take a 34-16 lead with 4:16 left in the half. DePauw led 45-22 at the break and opened the second half with a 20-9 run to push the lead over 30 points for good.
The Tigers shot 52 percent from the floor for the game including 56 percent in the first half and held Earlham to just 33 percent.
DePauw plays Anderson in Thursday's second game at 6 p.m. with Earlham tangling with Thomas More in the 4 p.m. contest in the classic format. Thomas More defeated Anderson 50-42 in tonight's first contest.
Back