Dick Tomey '60 Named Head Football Coach at San Jose State
December 30, 2004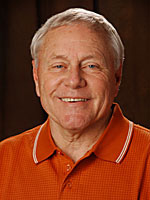 December 30, 2004, Greencastle, Ind. - Dick Tomey, currently the assistant head coach and defensive ends coach for the nationally-ranked 2005 Rose Bowl participant University of Texas and a 1960 graduate of DePauw University, has accepted the San Jose State University football head coaching position. Tomey previously served as head coach at the University of Hawaii (1977-1986) and the University of Arizona (1987-2000). He left both universities as each school's all-time leader in NCAA Division I-A coaching victories. Tomey, College Football Hall of Fame members George Welsh of Virginia and Navy, and the late Paul "Bear" Bryant are the only Division I-A coaches to lead multiple schools in all-time major college coaching wins.
"In all of our discussions during the hiring process, Dick Tomey was described as a person with boundless positive energy, possessing an engaging leadership style, and demonstrating a genuine

love for his student-athletes," says Tom Bowen, athletics director at San Jose State. "He's been associated with some of the most prominent names in college football for the last 40 years and has parlayed all his relationships into one of the game's most successful coaching careers. We are very fortunate that Dick Tomey wants to be San Jose State University's new coach."
"I believe San Jose State University can be successful in college football," Tomey says. "I've always felt San Jose State had tremendous possibilities. The opportunity to be the head coach is really appealing and compelling. With the
commitment from athletics director Tom Bowen and President Don Kassing, the pieces are in place for an outstanding program and I want to be a part of it."
A story announcing Dick Tomey's hiring notes, "The native of Bloomington, Ind., is a 1960 graduate of DePauw University where he played football and baseball. He began his coaching career in 1962 at Miami University (Ohio) as a graduate assistant coach under Johnny Pont and Bo Schembechler." It also notes that Tomey is a two-time conference "Coach of the Year," and that "the new San Jose State football coach was inducted into the DePauw University Hall of Fame in 1994." Tomey's 158-110-7 overall major college head coaching record places him among the top-10 active Division I-A head coaches for career victories and games coached.
Read more by clicking here.
Back