Monon Bell Victory Another of Paper's Memorable Sports Moments of 2004
January 1, 2005
Order 2004 Monon Bell DVD; View Photo Gallery
January 1, 2005, Greencastle, Ind. - "Brendan Berigan's interception sealed the fate of the Wabash Little Giants during a 14-7 loss to DePauw in the 111th Monon Bell Classic at Byron P. Hollett Little Giant Stadium," notes the Crawfordsville Journal Review in a review of the most memorable sports moments of the final quarter of 2004. "The DePauw defensive back stepped in front of a Russ Harbaugh pass and returned it 13 yards to the Little Giants' 1. It set up a 1-yard touchdown run by Jason Murphy, who helped DePauw build a 14-0 lead at the 6:58 mark of the second quarter."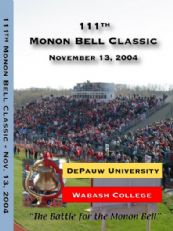 The piece continues, "'I saw (Harbaugh) roll out and I played the guy I was covering. The ball came right to me,' said Berigan, who made three interceptions in DePauw's final two games of 2004."
Access it online by clicking here.
View a game summary that includes video clips here, and order a DVD of the 111th Monon Bell Classic here (at right: cover art of the 2004 DVD).
Back