North Carolina State's Thirteenth Chancellor, James Oblinger '67, Officially Takes Reins
January 3, 2005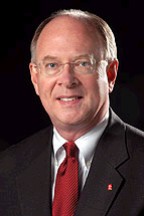 January 3, 2005, Greencastle, Ind. - "Not surprisingly, young Jim Oblinger was a good student growing up in the blue-collar town of Ashland, Ohio," notes an article in the Raleigh News & Observer on Oblinger, the new chancellor of North Carolina State University and 1967 graduate of DePauw University. "His mom was a public school teacher. His dad worked different jobs over the years with area newspapers and served stints on the local city council and school boards. Their son followed suit in high school, serving his junior year as class president and his senior year as the yearbook editor. He graduated with a knack for organizing and an interest in science -- useful skills from his first days at DePauw University to his doctoral work in food technology at Iowa State University. 'I was really fascinated by having to use a microscope to see these very small organisms,' Oblinger says. 'I enjoyed having to be precise.'"
James Oblinger officially assumed his new post Saturday, three months after being appointed chancellor. He takes over a university with an $820 million budget and 30,000 students. Tim Simmons writes, "Outgoing by nature, the 59-year-old knows hundreds of faculty, alumni and students after 18 years on campus. His ability to remember names and faces is uncanny. When he doesn't know the people around him, he simply sticks out his hand and says hello. A favorite trick is to look for parents toting cameras during campus ceremonies.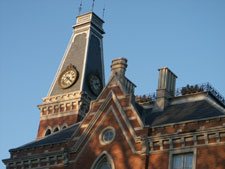 After the introductions -- it's Oblinger, with a hard 'G' -- he suggests parents stand next to their son or daughter so he can take their picture."
"This is not about me," the newspaper quotes Oblinger. "It's about us. We are NC State... One person cannot do this job alone," he explains. "I'm big on relationships. Relationships are about working together. So you see, it's really not about me."
Read the complete text at the News & Observer's Web site by clicking here.
Back